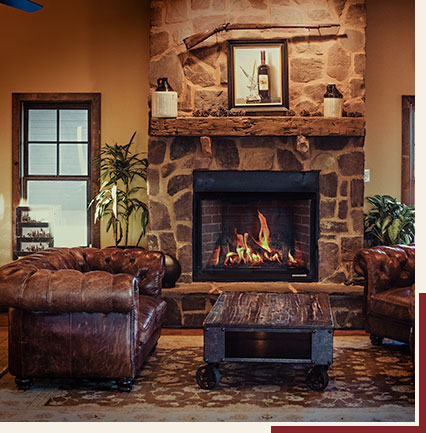 The charming Tasting Room is paneled in vintage barnwood and graced with hand-hewn beams. The Stone bar with a copper counter is highlighted with a 20 ft. hand painted mural by Virginia artist, Tom Mullany, depicting our property circa 1862. Seating in the Tasting Room is at cafe and high top tables. Located next to the main bar is our home-style fireplace lounge with large, comfy leather couches and chairs with a coffee table and overhead fans throughout. Internet access is available throughout the winery as well.
Enjoy our many delicious Virginia wines by the glass, bottle, or savor and evaluate their fine qualities with a tasting of The Winery at Bull Run's wines guided by one of our friendly and knowledgeable staffers.
Our Civil War relic displays are situated throughout the tasting room showcasing a collection of interesting historical artifacts found on the winery property and locally.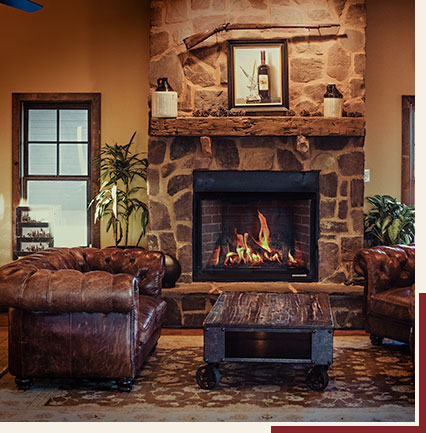 If you prefer an outdoor setting, our Hillwood Ruins features an expansive lawn that looks out onto our Norton Vineyard. The stone patio was constructed from the stone ruins of the original Entwisle estate house built in the 1800s.

Our rustic Barrel Room is home to our oak barrel aged red wines and our stainless steel tanks. The entrance is at the rear of the building on the lower level; you can also access it from the stairwell in the Tasting Room. Attached to our Barrel Room is the outdoor crush pad where we crush grapes in the early stages of the wine making process.

Enjoy your wine year-round from our colorful rockers and cafe tables on our Main Patio. With views overlooking our vineyards, the expansive front porch is great for a relaxing outdoor experience. Cooling overhead fans are utilized in the warm weather, while retractable sidewalls and infrared outdoor patio gas heat is used during cold weather months. You will also find live music every Friday, Saturday, and Sunday on our Main Patio.

The Winery at Bull Run Vineyard has two vineyards on-site, totaling over 8 acres of Norton vines. The Norton grape is the true American grape-born in Virginia, which is why we selected it! In addition to our onsite vineyards, we also have a 115-acre property in Rappahannock County, the home of our Rock Mill Vineyard. There, we are currently growing 8 different varietals across 42 acres of vines including Chardonnay, Petit Verdot, Chambourcin, Traminette, Merlot, Viognier, Cabernet Franc, and Cabernet Sauvignon.